Readable - WordPress Theme Focused on Readability
author:

ProteusThemes

category:

wordpress/blog-magazine

rating:

5.00

downloads:

300



Readable is a premium clean WP theme for blog with impact on best readability possible. It can be used as a personal blog, magazine, journal and it is very easy to setup and use.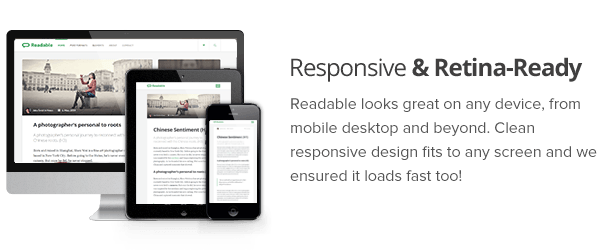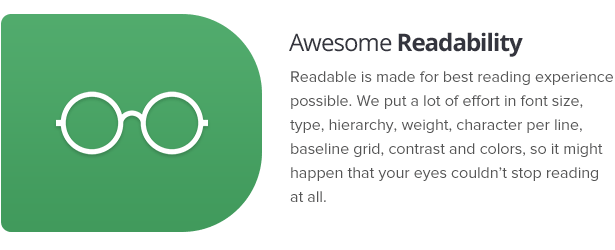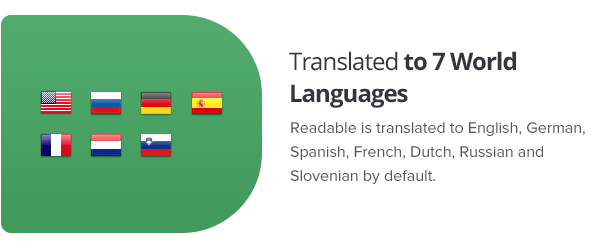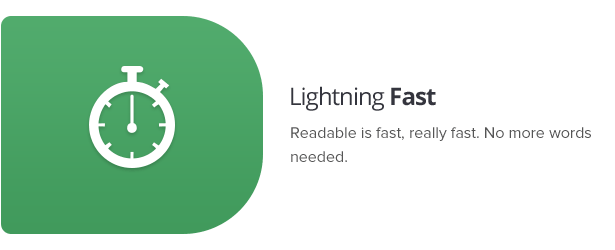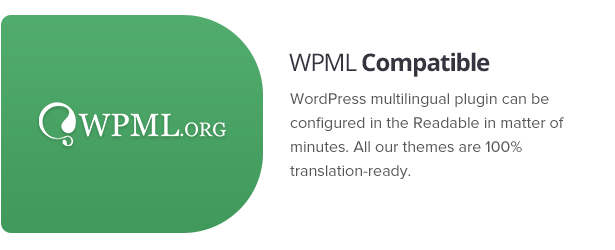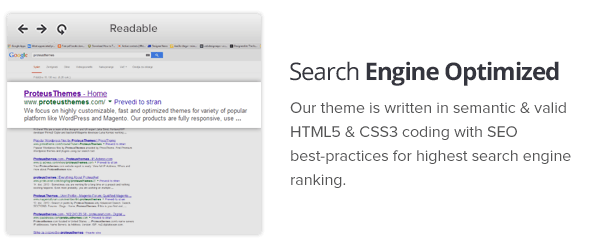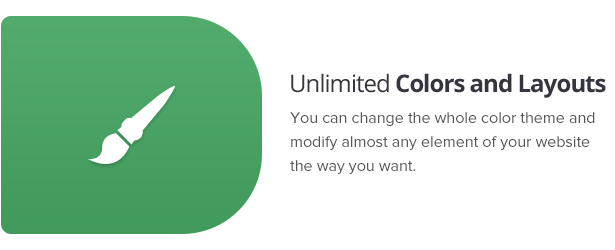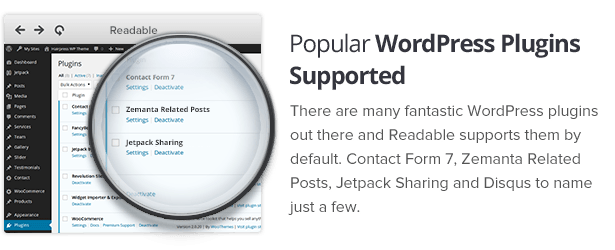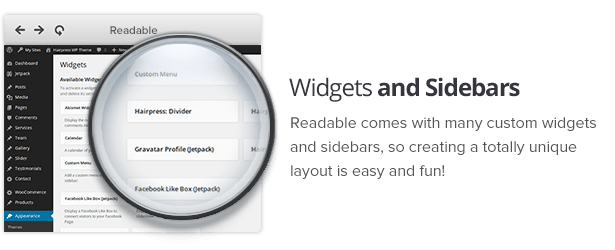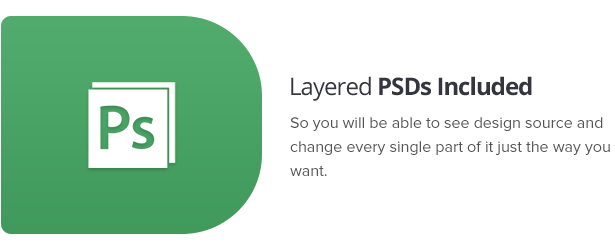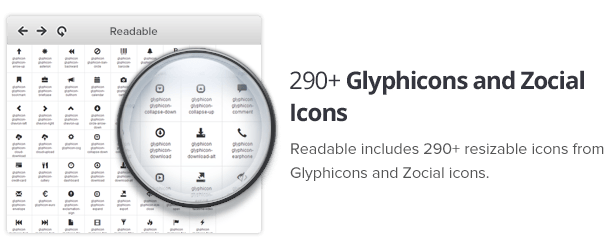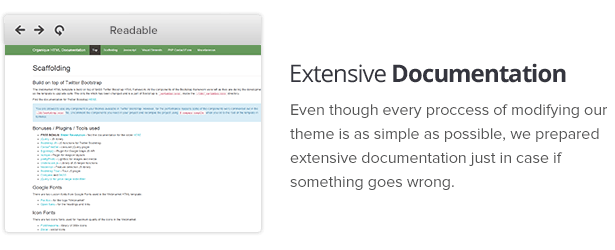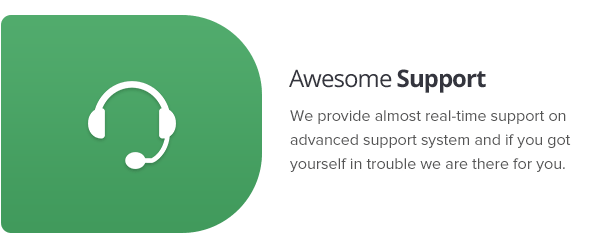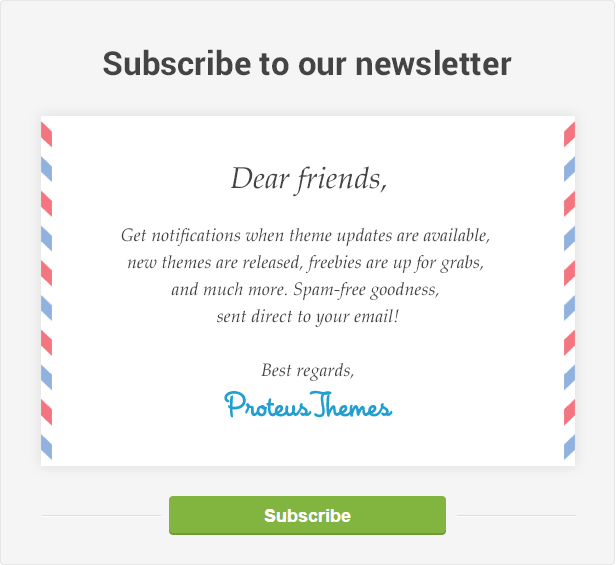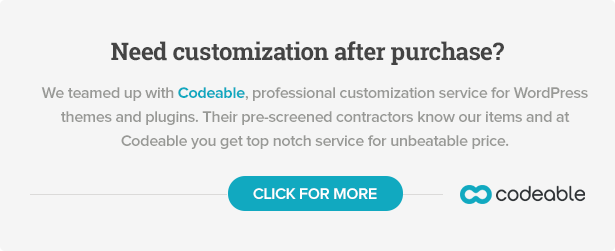 Our Customers Say
I love this theme very much, it's truly a readable and very functional theme for a nice looking site. I am very impressed by their customer support as well which made me love their theme even more Good work guys.

By erroloz
Great theme and supper support! Thanks a lot. 5*

By ojanneh
Excellent theme with everything we need. Primoz and the team are AWESOME. Cannot fault their support, documentation or theme.

By kerrij
Absolutely recommended theme! A+ customer support, answered all my questions in timely measure. Highly recommended for custom designs!

By noulou92
Hi , I would just like to say thanks to all your team, a great user friendly theme, but the great service post purchase is first class, don't think i will be looking anywhere else for future themes and content.

Thanks again
Visin hairdressing, Gee Cross
Great theme, perfect for any salon. Client loves it. Very good documentation and easy to use and setup.

By ypclarke
Absolutely stunning theme, highly recommended; 5* – with generosity of help like no other. Coded really well, & would like to see more from this user in the near future – keep supporting!!

By thenewlayout
Do you enjoy our theme? We would be glad to publish what you have to say to others. Just drop us a message from our profile.
Main Features
Responsive & Retina-Ready
Readable looks great on any device, from mobile desktop and beyond. Clean responsive design fits to any screen and we ensured it loads fast too!
Translated to 7 Languages
Readable is translated to English, German, Spanish, French, Dutch, Russian and Slovenian by default. This means you won't need to translate the front-end strings manually, we found professional translators for these languages and took care for that already. All you have to do is to install the localized version of the WordPress in your language and the front-end will be translated already!
Lightning Fast
Readable is fast, really fast. No more words needed.
Awesome Readability
Readable is made for best reading experience possible. We put a lot of effort in font size, hierarchy, weight, character per line, baseline grid, contrasts and colors, so it might happen that your eyes couldn't stop reading at all.
Search Engine Optimized
Our theme is written in semantic & valid HTML5 & CSS3 coding with SEO best-practices for highest search engine ranking.
Layered PSDs Included
So you will be able to see design source and change every single part of it just the way you want.
Unlimited Colors and Layouts
You can change the whole color theme and modify almost any element of your website the way you want.
Popular WordPress Plugins Supported
There are many fantastic WordPress plugins out there and Organique supports them by default. Contact Form 7, Page Builder and WooCommerce to name just a few.
290+ Glyphicons and Zocial Icons
Readable includes 290+ resizable icons from Glyphicons and Zocial icons.
Extensive Documentation
Even though every process of modifying our theme is as simple as possible, we prepared extensive documentation just in case if something goes wrong.
Awesome Support
We provide almost real-time support on advanced support system and if you got yourself in trouble we are there for you.
Images Used
The following licensed images used for the demo page comes blurred with the Readable, because of the licenses:
https://depositphotos.com/portfolio-1008939.html – All our pictures are from the same author: olly18
All the other images are licensed as public domain.
Translations
Readable is translation-ready with the readable.pot file in the subfolder /languages/. But it comes translated to these languages:
English (default)
German (default)
Spanish (default)
French (default)
Dutch (default)
Portuguese (Brazil) – by Mahmoud Ali
Russian (default)
Slovenian (default)
We will be glad to include your translation of Readable to your language if you send it to us (.mo and .po file).
Since we don't manage the sales (ThemeForest does), we cannot offer you the promo code or refund in return, but you can get the link to your site/profile and big THANK YOU on this page!
Fonts Used
Georgia – for the content
Open Sans – for the headings
Lato – for meta and smaller text
Contact / Support
We are available for questions / suggestions / help at Support Portal.
Changelog
v1.4.1 (2015-04-28)# fixed: OT (updated to 2.5.4) and TGM (updated to 2.4.2) vulnerabilityFiles:M Gruntfile.jsM MakefileM assets/stylesheets/main.cssM bower.jsonM header.phpM inc/theme-options.phpM languages/de_DE.moM languages/de_DE.poM languages/es_ES.moM languages/es_ES.poM languages/fr_FR.moM languages/fr_FR.poM languages/nl_NL.moM languages/nl_NL.poM languages/pt_BR.moM languages/pt_BR.poM languages/readable.potM languages/ru_RU.moM languages/ru_RU.poM languages/sl_SI.moM languages/sl_SI.poM package.jsonM style.css
v1.4.0 (2015-01-15)+ added: option for archive pages w/ thumbnailsFiles:A MakefileM assets/lib/main.scssM assets/stylesheets/main.cssM inc/filters.phpM inc/tgm-plugin-activation.phpM inc/theme-customizer.phpD languages/make_translateM languages/readable.potM loop-excerpt.phpM style.css
v1.3.1 (2014-10-28)# fixed: native WP widgets in the Author SidebarFiles:M assets/lib/components/_widgets.scssM assets/lib/main.scssM assets/stylesheets/main.cssM inc/register-sidebars.phpM style.css
v1.3.0 (2014-09-30)+ added: better pagination for the paginated single blog post+ added: Portuguese (Brazil) full translation (backend + frontend)# fixed: Dutch translation issue with comments number# fixed: id #comment now working for Disqus comments.# fixed: comments number is wrong in some languages# fixed: email icon should have a `mailto` protocol, not `http`
v1.2.1 (2014-07-31)+ added: example child theme for Readable in extras/readable-child/# fixed: hAtom microformats classes
v1.2.0 (2014-07-11)+ added: widget About Author+ added: hAtom microformats classes: https://www.davidtiong.com/fix-hatom-microformats-at-least-one-field-must-be-set-for-hatomentry/# fixed: native comment button is now in customizer# fixed: captions breaking the main wrapper on mobile# fixed: footer scripts from theme options now working# fixed: font size consistent over mobile/desktop devices
v1.1.0 (2014-05-30)+ added: option to exclude authors on About Us page via IDs+ added: close button in the search mode overlay+ added: search button at the end of the mobile menu+ added: optional sticky header for desktop+ added: page formats (styles will be enhanced in the future updates as well)# fixed: `the_date` changed to the `echo get_the_date`# fixed: added the pagination to the `archive.php`
v1.0.0 (2014-05-10)@ first release
blog, clean, creative, gallery, journal, magazine, minimal, minimalist, personal, post format, post types, read, readability